Categories
ENGINEER WEEK SPOTLIGHT: GRACE PEDERSEN, PE
Posted on 2018-02-20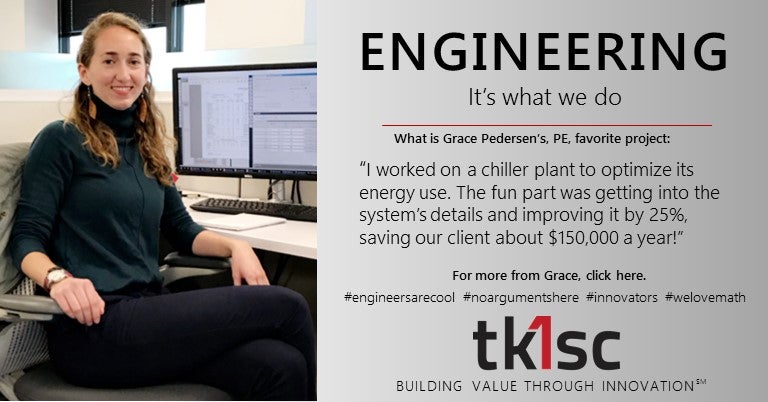 Grace Pedersen, PE
What drew you to becoming an engineer?
There are a few things that led me to choose engineering shortly in to my college career. I grew up with an interest in sustainability and reducing our impact on the environment. I have always loved problem-solving probably because math has always been my favorite subject. And, like any good engineer I always wanted to help my Dad with any home improvement projects.
What's your favorite project?
725 S. Figueroa Chilled Water Plant Commissioning would be my pick. This project delved into the control of the chilled water plant including chiller staging and setpoint optimization. What was really fun was getting to know the details of how the system worked and to see how it could be improved. We were able to save the client 25% of their chilled water plant energy. That is about $150,000 per year!
What would you tell your younger engineering self to make her life easier today?
There are so many options out there for an engineer. Don't be afraid to try a few things to figure out what you love doing. With a problem-solving mindset and a love of constant learning, you can excel in any field.
What do you do when you aren't engineering?
You can often find me baking or cooking. I also enjoy being active whether it is taking a yoga class, going on a hike, or figuring out how to cycle to different breweries.
Role: Associate
Discipline: Energy Engineer
Years of experience: 6 years
Education: University of Illinois at Urbana-Champaign
Office: Los Angeles
---