Categories
ENGINEERS WEEK SPOTLIGHT: ADAM WHITE, PE
Posted on 2019-02-19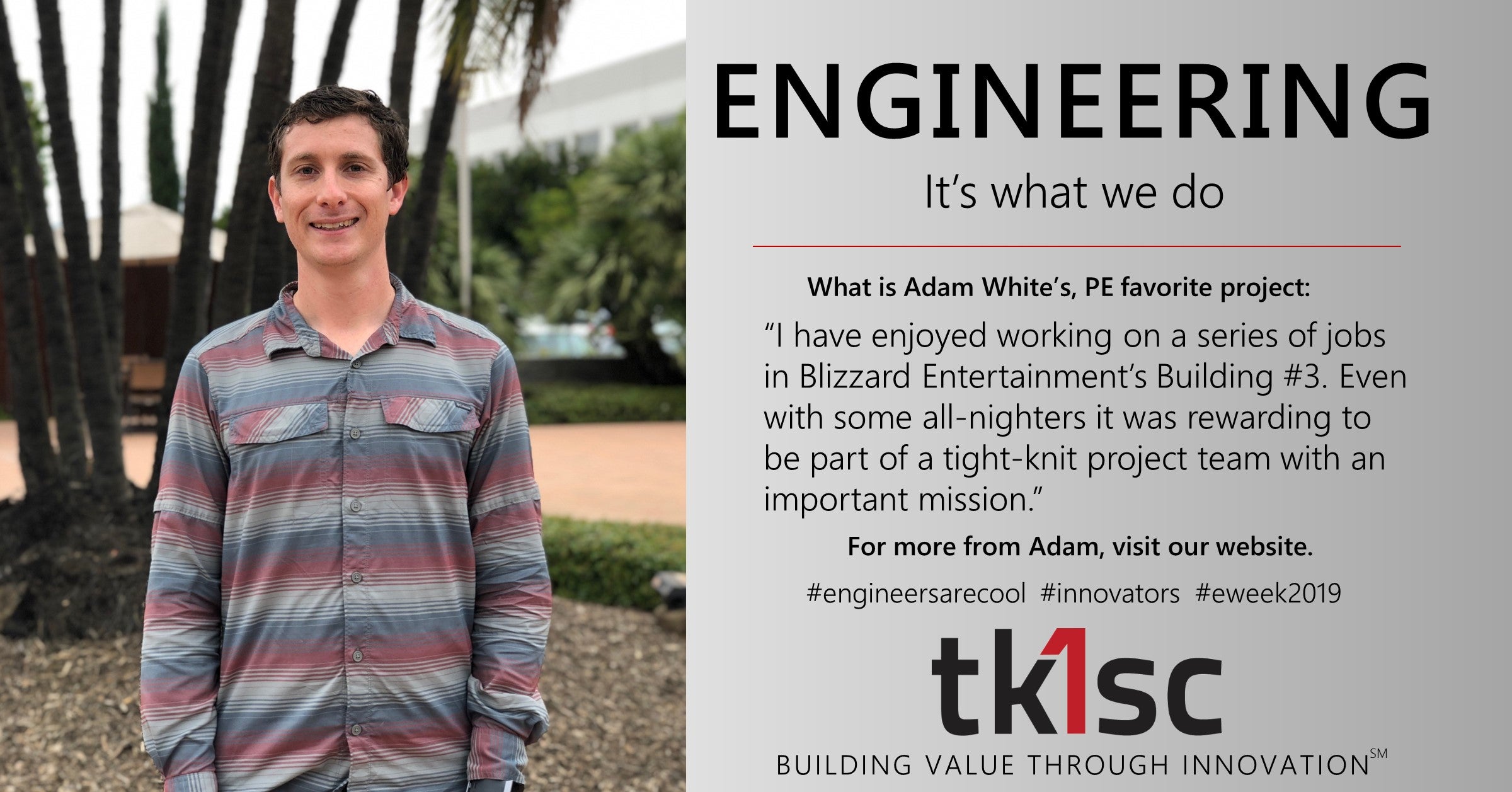 Adam White, PE
What drew you to becoming an engineer?
I've always been interested in how things work. As a child, I was that kid who would ask too many questions and try to take everything apart. My curiosity was never satisfied until I had a detailed understanding of exactly how each little piece of a machine, or an appliance worked. I'm thankful for the patience of my parents who would always answer my constant queries and kept a level head when I ran amuck with a screwdriver. My dad is a Mechanical Engineer and my mom comes from a family of engineers, so they understood where I was coming from.
I saw engineering as a way to create systems and to employ creative problem-solving techniques. While enrolled in a renewable energy engineering program, I quickly became fascinated by electrical engineering. The esoteric theories behind electricity and magnetism are impossible to witness with the naked eye, and yet the physical infrastructure that brings electricity into our lives is massive and visible everywhere. It's satisfying to design systems that fit into a much larger whole.
What's your favorite project?
I have enjoyed working on a series of jobs in Blizzard Entertainment's Building #3. We had a diversity of projects in this facility including offices, a cafeteria, coffee shop, an outdoor dining area, a command center, a yoga studio, and a feeder upgrade for the building's data center. The most recent one required some all-nighters for us to advise the contractor during after-hours construction. We had to keep the data center up and running at all costs, which meant guaranteeing a flawless transition onto generator power. While the lack of sleep was no fun, it was rewarding to be part of a tight-knit project team with an important mission. We became intimately familiar with this building, and pushed it to its maximum capacity while delivering great results to the stakeholders. These projects expanded our knowledge base, and helped us build great relationships with our fellow industry professionals.
What would you tell your younger engineering self to make his life easier today?
Keep calm, and don't be afraid to ask for help! Engineering is a team effort. Nobody can know everything, but a team can accomplish anything with effective communication and the right attitude.
What do you do when you aren't engineering?
First and foremost, I love the outdoors. I run races, hike, bike, paddle board, and lately have begun rock climbing. If I have a block of free time and am not feeling particularly active, I like to head down to the beach with good book to relax and replenish my vitamin D stores. I also enjoy making music. I play the bass guitar, the drum set, and I dabble in keyboards. I perform at my church every Sunday, and I sit in at blues jams around town on a regular basis. My wife and I travel frequently. We try to use our passports at least once a year. Our goal is to see as much of the world as possible. We seek out adventure and love experiencing new cultures. Especially the food!
Role: Senior Engineer
Discipline: Electrical
Years of experience: 5 years
Education: Oregon Institute of Technology
Office: Irvine
---