Categories
ENGINEERS WEEK SPOTLIGHT: JOSHUA APOLENIS, PE
Posted on 2018-02-22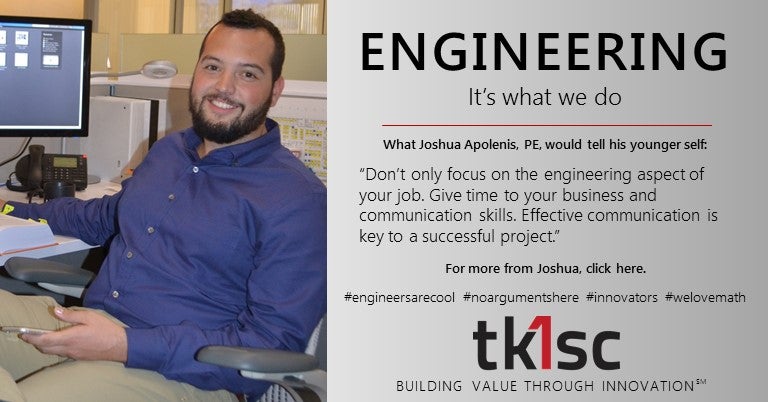 Joshua Apolenis, PE
What drew you to becoming an engineer?
When you are good at math and science you get told you should be an engineer. Combine that with having an uncle and brother who are fire protection engineers and it just seemed like a logical choice. I was accepted in to the University of Maryland's Fire Protection Engineering program and the dean of the FPE school told us that every person who graduated from that program got a job right away so that sealed the deal for me. An added bonus was that you got to burn stuff.
What's your favorite project?
You aren't supposed to have favorites but if I had to pick one I would say it is the Multidisciplinary Research Building 1 (MRB1) at the University of California, Riverside. This building is one of the few Group L Laboratory buildings in the state of California and it also has a 4-story atrium. This was a design-build project and we performed code consulting, smoke control design and hazardous material consulting. The reason why I say this is my favorite is because it was the first laboratory building I ever worked on and it included unique design challenges combining the laboratory and hazmat requirements with an atrium smoke control system.
What would you tell your younger engineering self to make his life easier today?
The first piece of advice I would share is to make sure to not only focus on the engineering aspect of your job. You need to be good at your technical discipline but also give time to your business and communication skills. You can be great at your job technically but a lot of the job can also come down to selling the work so you need to be able to communicate effectively. Also do internships in multiple aspects of engineering. You want to find what you truly like doing day in and day out.
What do you do when you aren't engineering?
I enjoy traveling. I also enjoy hiking, spending the day on the golf course and being at the beach.
Role: Associate
Discipline: Fire Protection Engineer
Years of experience: 5 years
Education: University of Maryland
Office: Irvine
---